January 28, 2021
2020 Technical Support by the Numbers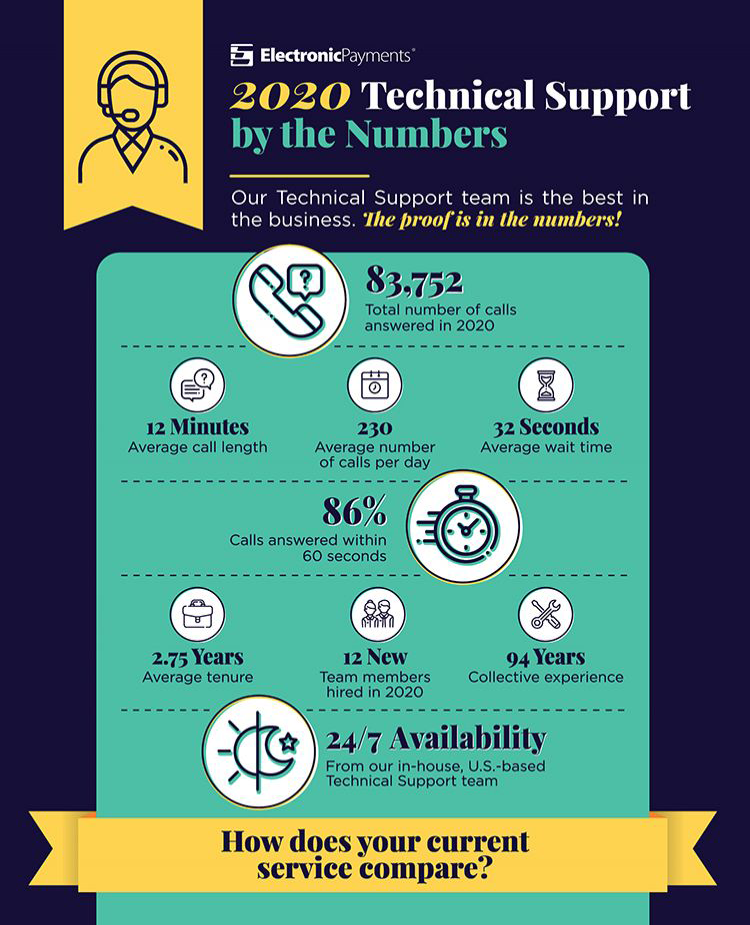 83,752 Total number of calls answered in 2020
230 Average number of calls per day
32 sec. Average wait time
12 min.Average call time
2.7 years Average tenure of our Technical Support team members
94 Years of collective experience
12 New team members hired in 2019
24/7 Availability from our in-house, U.S.-based professionals
The Best Technical Support in the Payments and Point of Sale Industry
We know your business doesn't have time to wait on hold for help from Technical Support. That's why our skilled professionals are committed to providing next-level service. Our experienced team doesn't pass your call around, they pick up in seconds, answer your questions—in terms that are easy to understand, and get you back to business quickly. How does your current merchant services provider compare?
What is good technical support?
The best technical support is the kind that answers your call quickly and responds to your questions thoroughly. If you're having trouble closing a batch late at night after your business closes, you need help right then and there. That's why our team is available 24/7 to provide support. And with 86% of calls answered within 60 seconds, there's no delay in accessing help.
Why is technical support important?
Running a business is hard. Choosing the right merchant services and point of sale partner is key to making it easier. Electronic Payments offers not only affordable payment processing and innovative POS solutions that are supported in-house, we provide our partners with the best service and support in the in the business. In fact, we answer an average of 230 calls per day with callers waiting only about 32 seconds to talk to us. What's more, we're able to help our merchants get back up and running in just 12 minutes—the average length of our technical support calls.
Contact us today and see the Electronic Payments difference for yourself!